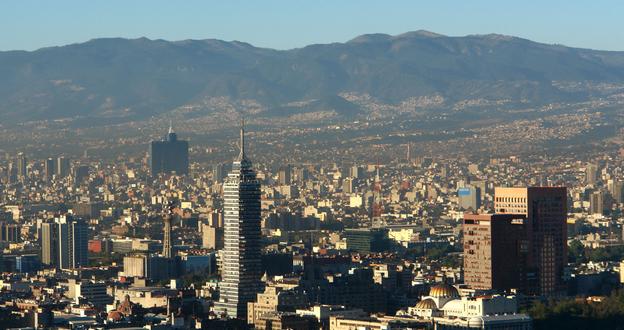 Key Stats
Mexico Peso
US$1 = $14.63
Key Cities: Guadalajara, Monterrey, Mexico City
Population: 124 Million
Natural Resources: Petroleum, silver, gold, lead, zinc, copper, natural gas, timber
Mexico is one of the seven most attractive countries to invest in (UNCTAD).
World's thirteenth most visited country (World Trade Organization).
Second largest export market for U.S. products and services.
Labor pool is estimated at nearly 78 million people
The cost of manufacturing in Mexico is 23% cheaper than in the U.S.
Primary economic activities feature crude oil extraction, tourism, and intense industrial, mining, and agricultural products. This includes the cultivation of a variety of agricultural products, mainly sugarcane, maize, oranges, bananas, tomatoes, green chilies, lemons, mangos and potatoes. Livestock is also an important sector for Mexico
According to the World Trade Organization, Mexican workers rank among the hardest-working in the world, in terms of the amount of hours worked per year.
Friendly International Environment
- Twelve free trade agreements along with an Economic Partnership Agreement that grants it preferential access for its goods to over forty countries.
- Twenty-eight investment promotion and protection agreements.
- Strong and well-defined double taxation treaties with more than forty countries.
- Low country risk with a local currency rating of A-.
Trans-Pacific Partnership (TPP) – Recently passed the Promotion of Authority by the U.S. Congress and likely to be completed this year.
- If completed, it will eliminate more than 18,000 and other trade barriers on American products across the countries involved - including Mexico. This will greatly benefit small to medium-size U.S. businesses looking to expand.
-Mexico's economy is predicted to surpass that of Brazil in the next 6 years and become the 5th largest economy in the world by 2050 (Goldman Sachs).
Healthcare/Medical
-Medical products from the U.S. are highly regarded in Mexico due to high quality, after-sales service, and pricing, compared to competing products of similar quality. Consequently, U.S. medical equipment and instruments have a competitive advantage and are in high demand in Mexico.
-Access to public market is now open to all pharmaceutical companies with operations in Mexico.
-Mexico's challenges with diseases like diabetes and obesity create a demand for more effective treatments and medical technology.
Best prospects for medical devices include:
• Anesthesia equipment • Defibrillators • Electrocardiographs • Electroencephalographs • Electro surgery equipment • Gamma ray equipment • Incubators • Lasers for surgery• MRI equipment • Patient monitors • Respiratory therapy equipment • Suction pumps • Ultrasound equipment • X-ray equipment
-Large public and private hospitals regularly seek out the most modern and highly specialized medical devices
-Some medium and small private hospitals with limited budgets buy used or refurbished equipment.
-Rising urban populations and decreasing rural populations has resulted in lacking healthcare for the rural areas. Increased demand for U.S. quality clinics and treatment centers.
Automotive
Surpassed the U.S. and Canada in 2012 as the largest North American auto-producing nation.
- Fourth largest exporter of vehicles in the world.
-Under NAFTA, U.S.–manufactured products enjoy duty free import benefit giving U.S. businesses a quality versus cost advantage over other foreign manufacturers.
Travel and Tourism Services
-Mexico is the second largest source of international traveler to the U.S.
-Distributing promotional material at one trade show is not likely to generate meaningful results. It is essential to establish personal relationships with tourism companies in Mexico.
-To save money and facilitate processes, wholesalers in Mexico are now buying products and services from tour operators in the U.S
-U.S. travel and tourism companies are advised to travel to Mexico in order to obtain sufficient exposure in the Mexican market and increase sales
"Mexico's Silicon Valley"
-Guadalajara is one of Mexico's key commercial hub and contributes a large percentage to the total gross national product.
-Prominent conventions and expositions year round that attract herds of foreign investors.
-Opportunities in almost all industries but the leading sectors include: electronic components, agricultural equipment and supplies, furniture manufacturers, processed foods, food processing, packaging equipment, and supplies.
Energy/Infrastructure
-Due to recent constitutional reforms, Mexico is finally ready to unlock its renewable energy potential.
-Due to proximity and years of experience, U.S. companies are uniquely positioned to supply projects in Mexico's evolving energy market.
-Over the next three years, the Mexican government plans to invest more than $600 billion to modernize transport, telecommunications, water, energy, and environmental sectors.
-The Mexican government has prioritized the re-launch of passenger trains as part of its massive transportation strategy.
-Other big investment plans to expand major ports and modernize international airports.