Global Chamber held "Access to Capital" this month on August 10, 2016. Over 40 attended the event, which includes a panel of lending experts that discussed traditional and alternative lending options, and spotlight presentations on equity, alternatives and business credit at Tech Social in Denver.
Local experts shared their stories with small business owners in hopes of helping them understand the best funding options for their businesses. This is incredibly valuable information since many of the small to medium-sized businesses believe that they will have difficulty raising both equity and debt financing within the coming months.
Even with lower interest rates, small businesses are still not applying for loans and are instead seeking alternative lenders with higher rates because they fear having their loan application denied.
"We look forward to bringing our Access to Capital to Global Chamber and providing small businesses in the region with the education and access to funding options that they are lacking." indicated John Vasquez of the National Community Development Fund.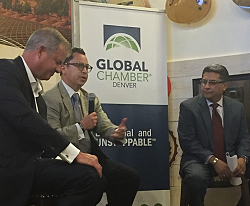 Event speakers include:
John Vasquez National Community Development Fund
Greg Lopez, Past Small Business Administration Director
Brett Haigler, Peoples Community Bank
Due to popular demand we are excited to announce that another Access to Capital event will be held in January 2107.
Jeffrey Campos
Executive Director Denver